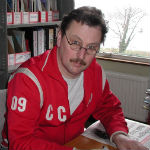 Adrian Weir [pictured], the assistant chief of staff at Unite, Britain's largest trade union, gave a speech recently at a demonstration protesting Israel's hosting the UEFA Under-21 football championship.
He began the speech by delivering "the solidarity greetings of General Secretary, Len McCluskey, the Executive Council of Unite and our 1.5 million members in Britain and Ireland". The speech is the usual litany of half-truths and outright lies that one expects from the PSC — e.g., Israel "is effectively an apartheid state" — but also includes this sentence: "Friends, on behalf of Unite I welcome Mahmoud Sarsak here today."
Mahmoud Sarsak is, apparently, a member of the Palestine national football team who was detained by Israel and held without trial. Following a hunger strike, he was released from jail in July 2012.
The Israelis accused Sarsak of having planted a bomb that injured an Israeli soldier and being a member of Islamic Jihad, one of the more extreme and violent Islamist groups. Sarsak's supporters deny this.
But according to this report in a Turkish newspaper, upon his return to Gaza, where he was greeted as a hero, doubt was cast upon his version of things. Here is what Today's Zaman wrote:
"Israel has accused Sarsak of being active in the violent group Islamic Jihad, a claim he denied while in custody. However, senior Islamic Jihad officials were present during his reception Tuesday, and one of the group's leaders, Nafez Azzam, praised the footballer as 'one of our noble members.'"
Oops.