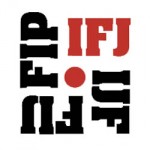 The contrast could not be clearer: in Israel, independent trade unions that sometimes cooperate with, sometimes confront the government. In areas controlled by the pro-Iranian Hamas, unions under the thumb of an authoritarian regime.
This week the International Federation of Journalists (IFJ) strongly condemned the actions of the Hamas regime in Gaza. In a statement published on their website six days ago, the IFJ "accused Hamas security forces of harassing elected officials of the Palestinian Journalists' Syndicate (PJS) in Gaza. In a letter to Ismael Haniyeh, Prime Minister in the Hamas government, the IFJ President said that journalists' leaders in Gaza have been subjected to a campaign of intimidation and threats designed to force them to stop their union work. Some of them are now facing charges of illegal activities and a travel ban after they refused to give in to pressure."
The IFJ is a global union federation that represents more than 600.000 journalists in 134 countries.
The full text of the IFJ press release is here.