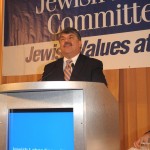 A British steelworkers' union leader has written to AFL-CIO leader, Rich Trumka, to congratulate him on a sterling speech in support of a two-state solution and President Obama's peace initiative.
Michael J.Leahy, OBE, the General Secretary of the Community Union in the UK, wrote to Rich Trumka to compliment him on his  pro-Israel stance and his opposition to Israel-bashers. Leahy is one of the founders of Trade Unions Linking Israel and Palestine (TULIP).
Unions should not create greater division in Palestine/Israel
" The trade union movement must be involved in the hard work that will create peace, work to bring people together not bring about greater division and combat racism and antisemitism whenever they raise their ugly head," Michael Leahy wrote to Rich Trumka.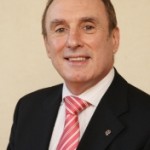 The Community Union leader wrote to congratulate Rich Trumka on his election as President of the AFL-CIO, and his  "sterling opening speech" on the Middle East peace process.
One of the world's oldest hatreds is a virus that adapts
" Antisemitism is one of the world's oldest hatreds and it has no place in our great movement," Leahy wrote.
" The Chief Rabbi here in the UK, Lord Sachs, likens antisemitism to a virus able to change its form and adapt to its environment, sadly we are seeing that process take place once more. I personally will challenge antisemitism in all its forms - cloaked anti-Zionism or not.
" Together we can bring hope to a region where progress and opportunity is often lacking.
Get unions working together across the Green Line
" If we can bring Labor and Union organisations together across the green line we can foster the future we wish to create. TULIP is our small part in that effort and we look forward to your on going support, especially when we launch our solidarity fund in the New Year."
Michael Leahy, along with Paul Howes of The Australian Workers' Union and Stuart Appelbaum of  the Retail, Wholesale and Department Store Union in the USA and  Canada, established TULIP earlier this year.
Paul Howes also wrote to Rich Trumka in a similair vein complimenting the new AFL-CIO leader.