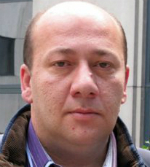 The President of the Georgian Trade Union Confederation (GTUC), Irakli Petriashvili [pictured], visited Israel last month together with two other colleagues.  They attended the congress of the Histadrut, met with its leader Ofer Eini, and also met the President of Israel, Shimon Peres.  There is a short report on the visit on the GTUC website.
The GTUC is a dynamic national trade union centre with a young leadership formed in struggle against a very hostile and right-wing government in Tbilisi.  The International Trade Union Confederation ran an interview with Petriashvili last year about their fight for workers' rights and a better labour law in the former Soviet republic.
It includes 25 trade unions (two of them regional and 23 sectoral) representing almost 260,000 members (about 45% of the entire workforce of the country).
Like many national trade union centres, the GTUC maintains a cordial relationship with Israel's unions and will have nothing to do  the campaigns to boycott Israel or its trade union movement.