A brand new initiative, designed to improve the lives of Palestinian drivers, saw its official opening this week.
The launch of the ITF's Palestine border crossing project at Tulkarem City was celebrated on 24 March.
The innovative initiative, which began trialling operations over the past few months, is helping Palestinian drivers who are held at the Irtah crossing between Palestine and Israel; truckers and taxi and minibus drivers face long delays at the border.
Union meeting space
Thanks to the project, they will now have access to refreshments, toilet facilities, shade, as well as a union meeting space.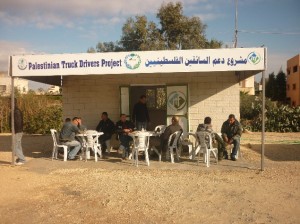 Present at the ceremony were ITF general secretary David Cockroft and ITF assistant general secretary Stuart Howard, along with officials from the Palestinian authority, Shaher Sa'ad, general secretary of the Palestine General Federation of Trade Unions and Nasser Younis, general secretary of the Palestinian General Union of Transport Workers.
The International Transport Workers Federation has probably been the most consistent global union grouping working with both Palestinian and Israeli unions looking for new opportunities to provide linkages and build co-operation between union workers on both sides.
PGFTU looks forward to the day when there will no longer be a barrier
Shaher Sa'ad said: "This is the ITF general secretary's second visit to Tulkarem; we hope that his third visit will take place when there are no longer any barriers and when Palestinian drivers can move around as freely as Israeli drivers."
ITF general secretary David Cockroft agreed the ITF website reported.
He added: "We believe that this is a pioneering ITF project and trust that, with the support of the Palestine authority, there will be more to come."
Transport minister Dr Saadi al-Krunz noted the difficult conditions experienced by the truck drivers and welcomed the support from the ITF and the Canadian Auto Workers; the union provided a large part of the funding for the project. Meanwhile, Talal Dwekat, governor of Tulkarem also thanked the ITF and highlighted how this poor area had been made worse by the building of the wall, which runs close to the project site.
A driver from Nablus, Abdullah Albena, said that the initiative was a real help to drivers who had to spend hours waiting at the border crossing. It also showed them how the union could help them.
Read earlier, similar, stories on this website: